It's an upload day over at
HSS
and these are my projects. I got all the yummy gorgeous supplies over there. I'm telling you it's the best online store you can find with a great service. I have been using pictures from this time Santa came to our house a few times on LO's but I just had to create a mini album with these cute pics of the kids with Santa.
Title: Santa 2007
Supplies: The album is from Pageframe Design and they are on a great deal over at HSS. Papers are all Dreem Street you can get all the DS lines over at HSS. Bazzill. A lots of Q&co stuff felt ribbon, pearls and title letters. Stickles and Tim Hlotz distressing Ink. Doodblebug jewl. The stamp is Basic grey and the in StazOn. Flowers Prima and Heidi Swapp. The brads I used on the flowers are from Imaginisce and also the stickers on the second page. The journaling box I made with Cricut the Joy of the Season cartridge. MM stickers
I always take a picture of Sunneva infront of the Christmas tree on Christmas morning. This one is from last year. She is always so excited but this is also my DD birthday so we spend the morning making him a great breakfast and we wake him up with the Birthday song. That makes the waiting a little better for her.
Supplies: Papers MME and Bazzill. The gorgeous christmas tree is from Page Frame Designs and they are with a 20% discount. Q& co pearls I just love those. Doodlebug jewlels. Stickles. Glitz frosting. MM stickers.

These pics I took last year on the first Snow day. My DD really loves to eat snow as you can see :-)
Title: Yummy
Supplies: MME papers and Bazzill. Snowflake by Page Frame Design. Q&co pearls and felt frenzy. Stickles. MME stickers and American crafts thickers.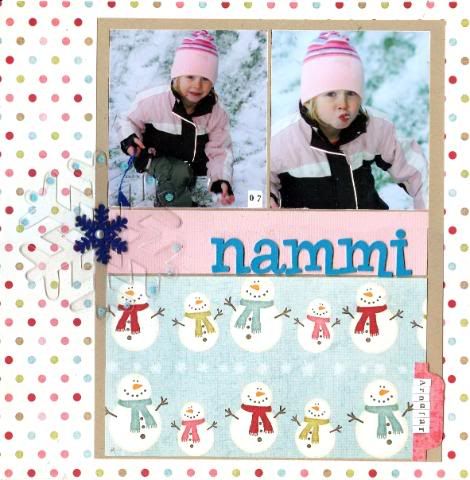 TFL