It's been too long since I uploaded something new here. I have been so busy at work and my social life has never been so busy as it is these weeks.
We have an amazing guest designer over at
HSS
Julie Overby her challenge was: "This challenge is all about cutting it up Create a layout with 'fussy cutting' on it."
I used the nov kit from Studio Calico to create my LO. Title Together. It's been so long since I scrapped (or at least it feels like it's been long) that I felt rusty.
I have
Ali Edwards
in my bloglines and I love all the fun scrap projects she does. Documenting Dec is one of them and I'm going to do it. The hole point of this project is to have the album ready when Dec 1 comes along. The only thing I'll have to is to print out the pics and write the journal each day. The title of this mini album is: 26 days of Dec 2008.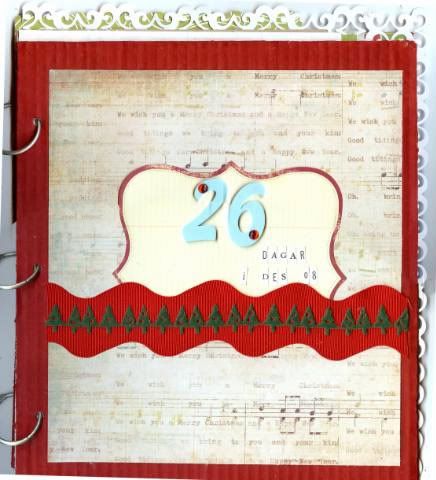 Guess what happend to my "baby" over the weekend ??? A co-worker was playing with my camera (lesson never hand over your camera to someone else) and he ruined some part of it so now it's beeing fixed (or at least I hope they can fix it). I'll borrow my dad's camera !!! I feel like someone hurt my baby.
TFL
Over and out